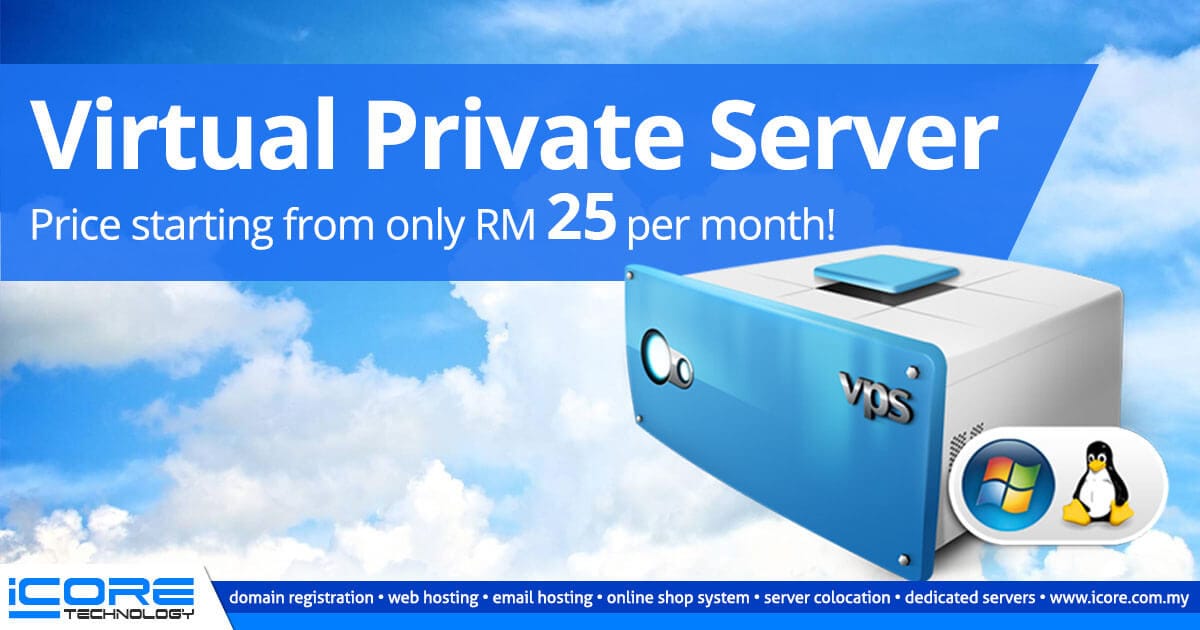 Virtual Private ServerRaid 10 Storage · vCPU · Dedicated RAM · Guaranteed Bandwidth · IPv4
Specifications
VPS200
VPS400
VPS800
VPS1600
Storage
200 GB


RAID10 HDD

400 GB


RAID10 HDD

800 GB


RAID10 HDD

1,600 GB


RAID10 HDD

CPU
4 Cores
4 Cores
8 Cores
8 Cores
Memory
4GB
4GB
8GB
8GB
Dedicated
Bandwidth
100Mbps
100Mbps
100Mbps
100Mbps
Data Transfer
2TB
2TB
3TB
3TB
IP Address
1 × IPv4
1 × IPv4
1 × IPv4
1 × IPv4
Pricing
VPS200
VPS400
VPS800
VPS1600
Paid annually

RM 85.00


per month

RM 150.00


per month

RM 250.00


per month

RM 300.00


per month
Paid semi-annually

RM 90.00


per month

RM 180.00


per month

RM 280.00


per month

RM 360.00


per month
Paid quaterly

RM 95.00


per month

RM 190.00


per month

RM 290.00


per month

RM 380.00


per month
Paid monthly

RM 100.00


per month

RM 200.00


per month

RM 300.00


per month

RM 400.00


per month
 
Order
Order
Order
Order
* NIC Card : Ethernet 100Mbps port
* Monthly Data Transfer : Unmetered
* No contract or minimum lease time required
* Monthly server fee is non-refundable
Technology
Over IP
We are bringing more convenience to our customers, with our IPMI and Reboot Over IP Technology.
Customers won't have to wait for longer server reboot time anymore.
Data Center Location
All our servers are located at these world class facilities.
- CX2 Data Center, Cyberjaya
- AIMS Data Center, Kuala Lumpur
Customer
Care Support
We're here to assist you with any enquiries about our services. Feel free to drop us an email or call our customer care support.
Call us : +607 - 288 1230
Email us :
This email address is being protected from spambots. You need JavaScript enabled to view it.
Server Backup Solution
Backup is more crucial than you think! Proper periodic server backup ensures your data is always protected so that you can have it in the hand whenever it's required.
Data Center Facility
24×7 Network Monitoring
World Class Facility
Raised Flooring
HVAC Temporature Control System
Secure 24×7 Facility
Smoke Detection System
Fire Suppression System
Video Camera Surveillance
State-of-the-art Cisco Power Routers
1Gbps BGP Network
Direct Peering with 4 Upstream Providers
Standby UPS System
Backup Generator Set
1st Level Support - Onsite Reboot
99.9% Network Uptime Guaranteed
Enhance Your Server
Value Added Services